November 22nd, 2017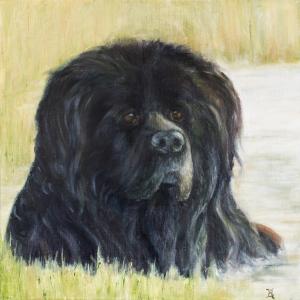 Ok I'm back again. It has, once again been a while since I wrote anything. I thought I would share my thoughts on "Awesome Beauty", a TV programme with artist Lachlan Goudie. Lachlan talks paintings of the industrial landscape from the industrial revolution to the present. He produces beautiful sketches while at sites which were gorgeous. Many of the paintings were incredible. I think the painting I liked most was Turner's "Dudley" during the industrial revolution, a magical image of smoke and light. The pride of workers that build aircraft and ships on a colossal scale was inspiring and Lachlan sat by a large wind turbine sketching with breathless accuracy. I grew up in the Midlands of Britain and have worked in factories so I have a bit of a love hate relationship with industry. Some of the old buildings do have a beauty but many are grubby and certainly in the past smelly. I remember the smell of the Courtaulds factory at Grimsby in the 80's mingling with the odour of the Birds Eye fish factory and then there's the noise of industrial spinning. The cleanness and silence of a painting does not convey the stink and noise that is usually found in industry. I think would still rather be off in the countryside.
August 6th, 2017
There have been a lot of good art programmes on Sky Arts and BBC4 lately. So I'd thought I'd report on at least one of them. Sky Arts "Painting the modern garden Monet to Matisse" accompanied an exhibition at the Royal Academy, London, which doesn't seem to be on anymore.. The programme starts by pointing out that while painting gardens has been looked down upon in recent times in the early 20th Century by many artists used them for inspiration. The most obvious of these was Monet. In his garden he set different colour plants against one another and was looking for new colours in the garden, so it was always changing. He often put flowers with opposing colours together, the opposite of what was considered good in an english garden. Monet was influenced by scientific exploration as new plants were brought to the west from all over the world and transported to gardens. This is where Monets pink water lillies came from, previously they would have been white. There were many contributors to the programme such as the artist Lachlan Gaudi, and art from other painters including, James Tissot's Chrysanthemums. I have to admit that while the complimentary colours are eye-catching I have always felt most comfortable with in the natural English landscape with it more subdued colours and I love the white garden at the National Trusts Hidcote although my own garden is more random.

March 12th, 2017
Feel like I'm on a roll. I entered some photos at a local arts festival and got 2 certificates. My photo "Never too Late" got the 1st certificate in still life. You can see the photo on my FAA pages. Another of my photos "I am the walrus" got 2nd in humour. It's not a photo of a walrus, it's my dog Arvy with his muzzle covered in sand. I wonder if the title helped it win? Anyway it's always worth a try to enter. Two years ago I had 4 paintings turned down at another exhibition, I found this very difficult as I'm not the most confident person, but I decided to get some feed back and then took some lessons and did some research and try to improve. The same exhibition is coming up again and I almost didn't enter it but I have. But now I know there are people who like and value my art and who commission me to paint people and pets who are important to them. If my work is not accepted I will feel crushed dor a little while and then I'll get up and get on with getting better.
February 28th, 2017
Well I picked up a 2nd certificate at the Arts Festival for Leafy Horse. Two years ago I got a 1st with Rose of Regeneration. I wen to pick up my painting yesterday - well armed with bubble wrap, and submitted some photographs. i'd sorted through Lightroom looking at flagged photographs to submit and realised how many I've got that I've never got round to putting on my website. Lightroom is great for cataloguing and categorising your photographs and doing basic, dark room style adjustments. I've just set up my own vintage look preset because I find the ones in LR a bit harsh. Something I do sometimes is turn a photo black and white and make my lighting adjustments so that I am only looking at the tones, that way I'm not distracted by the colours, then I can turn the colour back on ready for further processing.
January 29th, 2017
Some of my work is in the Nuneaton Festival of Art until 26th February, along with many other artists. Its always worth visiting Nuneaton Museum and Art Gallery, not only for the art but because they have an excellent tearoom with delicious cakes. I have 3 pieces in this time, all up for sale. Last time I entered in 2016 I won the fantasy art section with Rose of Regeneration.

Its always wise to give yourself plenty of time to prepare pieces before submission, get the right fittings and labels on, fill in the forms and wrap your work so it doesn't get damaged. I say this because I am a last minute person. This time I got to the doors 5 minutes before submissions closed and once after the doors were locked,
January 19th, 2017
The other day it was dull and drizzly, not too good outside so I decided to do some Still Life photography! The opportunity was taking photographs of a red leaf floating on a white bowl. As this involved a loooong slooow shot I needed a tripod. First I tried my Manfrotto tripod, but his would not get my camera over draining board where I wanted to work because of the water, then I tried a my Joby Gorillapod SLR - too short. The answer was to wrap the gorillapod around the tap. this was really useful as I could move swivel the tap around to get different shots. There are three of the "Floating Red Leaf" shots on my pages, I particularly like number 3 but I think they make a nice group of 3 if put in a room together.
November 16th, 2014
Hooray sold a photograph called Water Swirl. Can't help feeling elated. Its a picture of water swirling round mossy rocks. I met the lady who bought it but I was too disorientated to talk to her like a normal human being. Thats 2 things sold in 6 months. Both of my sales were to do with water and I'm an aquarius, not that I believe in horoscopes but it is an interesting coincidence.

November 14th, 2014
After a seriously dippy effort I got my work into the Kenilworth Art show a day late. For some reason I got the dates wrong, I have learnt a lot about preparing browser pieces if nothing else. Now to prepare something crafty for next weeks Christmas fayre - no paintings allowed due to lack of wall space. Loud tweeter on its way.. hopefully.

May 13th, 2014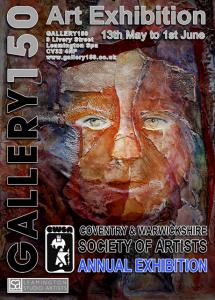 Hi My work has been accepted in the Coventry and Warwickshire Society of Artists Exhibition at Gallery 150, Regency Arcade, Leamington Spa. There 3 main pieces for sale - - Hectors Transformation (which can be viewed on here), Regeneration ( a rose with a difference) and Hippocampus Waves (Hippocampii in the sea). There are also a couple of smaller pieces - Jumping the Moon - which can be viewed here and Tea Thyme. Please come see the work of me and other artists in the area.
March 16th, 2014
When not filling in holes in the lounge floor I've been concentrating on refreshing my digital art skills this week and learning about Corel Painter X3, which I upgraded to before Christmas. Painter X3 seems much easier to use than Painter 11, more instinctive. The green woodpecker is the results of my efforts. I'm quite pleased with him. I have been working on another digital painting "In search of sleep" but its more complicated and not yet finished.